Gluten Free – Egg Free – Oil Free – Vegetarian
RECIPE YIELD: 9 cups (12 bowls)
This nutritious no-cook avocado chocolate pudding is rich, creamy, and super delicious. Made with only avocados as the main fat source, this pudding contains no butter, hydrogenated oil, or full-fat dairy products, as most traditional chocolate puddings may have. It is also egg-free and is naturally sweetened with dates and honey, with no added refined sugar. Vegans can enjoy this pudding by simply substituting the cow milk called for in the recipe with any of their favorite plant-based milks (but the flavor and texture may not be as rich and thick since the recipe also calls for powdered cow milk which helps in adding some richness and thickness).
INGREDIENTS:
7 medium ripe pitted Hass avocados (no skin) (1,085 g)
14 large soft pitted medjool dates (265 g)
1 ½ cups unsweetened cocoa powder (135 g)
2 cups skim liquid milk
6 tbsp skim powdered milk
⅓ cup honey
½ tsp vanilla powder
⅓ tsp salt
INSTRUCTIONS:
Place the avocados in a large bowl and mash up a bit with an avocado masher or fork.
Add the pitted dates, then mash and mix. Set aside.
In a separate bowl, sift the cocoa powder, then mix in the powdered milk, vanilla, and salt.
Pour in the liquid milk and honey, then whisk well.
Blend the two mixtures lightly, then in two batches, process in a large food processor, scraping down the sides as needed, and processing until all the ingredients are well blended and smooth.
Pour both batches back into a bowl and whisk well to combine.
Pour the pudding into an airtight container or spoon out into individual bowls and cover well (add ¾ cup of the pudding to each bowl served).
Refrigerate the pudding for at least 12 hours before serving (this helps the flavors of the avocado and cocoa to set).
Can be served as a dessert topped with strawberries (or any other fruit) or eaten as a breakfast mixed in with oats, flaxseeds, chia seeds, or nuts. Best consumed within a few days.
NUTRITION FACTS PER BOWL:
284 Kcal
14 g Fat
6 g Protein
45 g Carbs
11 g Fiber
30 g Sugar
NOTES:
If the dates are not very soft, make sure to warm up the milk, then blend the milk and dates together until a smooth paste is formed, before proceeding with the remaining steps.
For a stronger cocoa flavor, one can add more cocoa and adjust the sweetness with additional honey if desired.
Each bowl contains ¾ cup pudding.
This recipe is from my book titled Homemade: Made Healthy & Whole – A Flavor of Lebanese Cooking and Other Healthy Recipes which contains over a 100 recipes made with a healthy and whole twist!
This recipe was featured in the Sahtein segment under the Wellness section of the MainGate magazine, American University of Beirut – 2019 Summer Edition.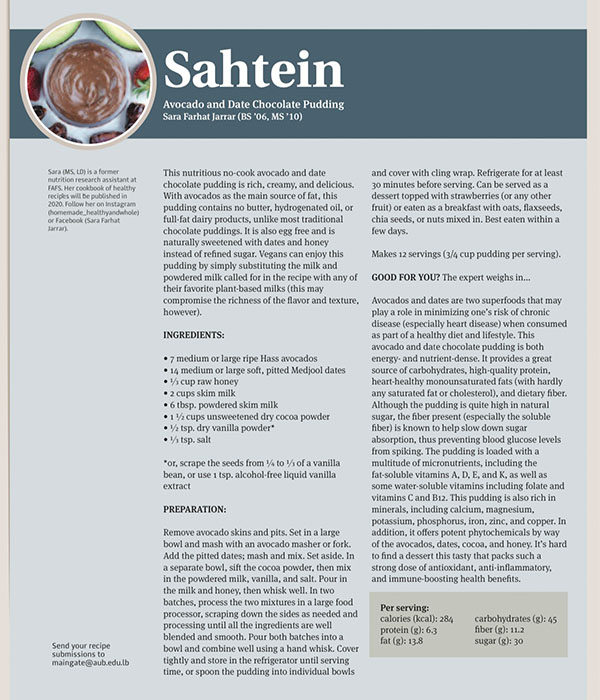 All rights reserved, including complete or partial reproduction and use of any content of this recipe, without the written consent of the author. Any unauthorized actions are subject to legal proceedings.