Dairy Free – Egg Free – Vegetarian – Freezer Friendly
RECIPE YIELD: 15 slices
This vegan Middle Eastern street food, traditionally deep-fried, gets a healthy and convenient makeover by being flat-pressed into a pan and baked in the oven. While recipes differ between countries, with most calling for a combination of fava beans and chickpeas, I prefer using only chickpeas in my falafel ˗ and I am sure those who are at risk of favism will be pleased!
INGREDIENTS:
3 cups dry chickpeas (555 g)
1/3 cup dry dark fine bulgur (grade 1) (47 g)
2 medium yellow onions, quartered (320 g)
2 bunches Italian parsley, coarsely chopped (210 g)
1 bunch coriander, coarsely chopped (85 g)
2 tbsp garlic, crushed
2 tbsp olive oil
3 tbsp water
3 ½ tsp cumin
1 ½ tsp turmeric
2 tsp salt
1/3 tsp black pepper
1 tbsp baking powder
1 ½ tsp baking soda
cayenne pepper, optional
INSTRUCTIONS:
Soak the chickpeas and baking soda in water for 16 hours. Drain and rinse, discarding any bad pieces. Set aside.
Rinse the bulgur a couple times, then drain, pressing dry. Mix the bulgur and water in a small bowl, then stir in the olive oil, garlic, spices, and baking powder. Set aside.
In two batches, process the onions with the parsley and coriander in a large food processor until finely chopped, scraping down the sides as needed. Set aside in a large bowl.
Similarly, in two batches, process the hydrated chickpeas and bulgur mix in a food processor until a coarse paste is formed. Add to the bowl containing the onions and leafy greens, then mix well by hand.
 Grease a large sheet pan (recommended dimensions: 30 cm x 40 cm or similar) with some olive oil. Spread the falafel dough onto the pan, gently patting down until the surface is even. Cover with aluminum foil. Bake in a preheated oven at 375 °F for one hour.
Switch to a broil setting at 500 °F, uncover the falafel, then bake for 10 to 15 minutes, or until the top turns a light golden color (it is optional to spread an extra 1 tbsp of olive oil on the surface for a crunchier top).
Enjoy a slice of falafel drizzled with my healthy tahini sauce (recipe below) and eaten plain with tomatoes, parsley, radishes, and pickled turnips, or made into a sandwich on whole wheat pita bread.
NUTRITION FACTS PER SLICE:
191 Kcal
4.5 g Fat
9.4 g Protein
31 g Carbs
9 g Fiber
6 g Sugar
RECIPE ALTERNATIVE:
For a gluten-free falafel recipe, one can omit the bulgur and substitute it with a small boiled potato for better binding of the falafel dough.
TAHINI SAUCE (Taratoor ﻃرﻄور)
Dairy Free – Gluten Free – Egg Free – Oil Free – Vegan – Freezer Friendly
RECIPE YIELD: 20 tbsp
This is a super simple garlicy and tangy tahini sauce that goes well with many Middle Eastern street foods such as falafel and beef shawarma. While some may make their sauce with part tahini and part yogurt (for a lighter/whiter color), I like going all tahini for a richer flavor!
INGREDIENTS:
½ cup tahini (120 g)
½ cup water
¼ cup lemon juice
1 tbsp garlic, crushed
¼ tsp salt
INSTRUCTIONS:
In a small bowl, mix the garlic and salt (until a paste is formed), then add the lemon juice.
Add the tahini and water, then whisk well until a smooth homogenous sauce has been obtained (for a smoother effect, one can mix the ingredients in a blender. Let the garlic and salt melt together though before transferring to the blender).
Store in an airtight container and keep in the refrigerator. It is best consumed within a week (or send it off to the freezer).
NUTRITION FACTS PER TABLESPOON:
37 Kcal
3 g Fat
1 g Protein
1.6 g Carbs
0.6 g Fiber
0 g Sugar
NOTES:
It is normal for the tahini sauce to thicken with time as it sits in the refrigerator. One can whisk in some cold water if desired to thin it out slightly.
The strength of the garlic flavor increases slightly as the tahini sauce sits in the refrigerator from day to day.
These recipes are from my book titled Homemade: Made Healthy & Whole – A Flavor of Lebanese Cooking and Other Healthy Recipes which contains over a 100 recipes made with a healthy and whole twist!
These recipes were featured in the Sahtein segment under the Wellness section of the MainGate magazine, American University of Beirut – 2019 Spring Edition.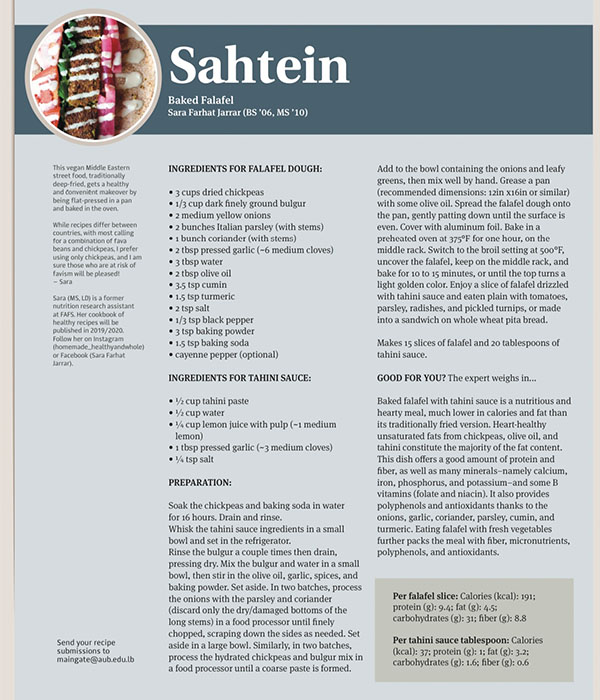 All rights reserved, including complete or partial reproduction and use of any content of this recipe, without the written consent of the author. Any unauthorized actions are subject to legal proceedings.