Dairy Free – Gluten Free – Egg Free – Oil Free – Vegan – Freezer Friendly
RECIPE YIELD: 60 Truffles
Inspired by the Middle Eastern tradition of eating a pitted date stuffed with an almond or a walnut, these delicious and nutritious truffles provide a boost of energy, healthy fat, fiber, and micronutrients, while satisfying a sugar craving with natural sweetness. This recipe is surely one to impress family and friends!
INGREDIENTS:
Truffle Dough
46 large soft pitted medjool dates (865 g)
1 ½ cups walnut pieces (150 g)
1 cup blanched almonds (150 g)
½ cup finely shredded unsweetened coconut flakes (42 g)
2 tsp orange blossom water
Truffle Coatings
4 tbsp finely shredded unsweetened coconut flakes
4 tbsp ground pistachios
4 tbsp ground blanched hazelnuts
INSTRUCTIONS:
Grind the walnuts and almonds in a large food processor, scraping down the sides until the nuts are finely ground.
Empty into a bowl, then mix in the coconut and orange blossom water.
In 2 batches, process the dates and the nut mixture in the food processor, scraping down the sides until well blended and smooth.
Empty back into a bowl and knead until a uniform dough is formed.
Cover, then place in the refrigerator for an hour to firm up a bit.
Divide the dough into three equal parts, then using a tablespoon, scoop level spoonfuls of the dough and round into balls; each third of the dough should yield 20 truffles (if dough is too sticky to work with, lightly grease both hands).
Roll each of the truffles in one of the three truffle coatings.
Store the truffles in an airtight container for up to a week at room temperature or up to two to three weeks in the refrigerator. Since truffles will harden slightly in the cold of the refrigerator, allow them to soften at room temperature for about 15 minutes before serving.
NUTRITION FACTS PER TRUFFLE:
85 Kcal
4 g Fat
1.4 g Protein
12 g Carbs
2 g Fiber
10 g Sugar
NOTE:
Since the coconut, pistachio, and hazelnut-coated truffles have only slight differences in nutritional value, the numbers were averaged between them.
RECIPE ALTERNATIVE:
An equally delicious truffle can be made with dried apricots instead of dates. Substitute (in equal quantities by weight) the dates with apricots and the walnuts with pinenuts, keeping the almonds, coconut, and orange blossom water the same. Coat with shredded coconut.
This recipe is from my book titled Homemade: Made Healthy & Whole – A Flavor of Lebanese Cooking and Other Healthy Recipes which contains over a 100 recipes made with a healthy and whole twist!
This recipe was featured in the Sahtein segment under the Wellness section of the MainGate magazine, American University of Beirut – 2018/2019 Fall/Winter Edition.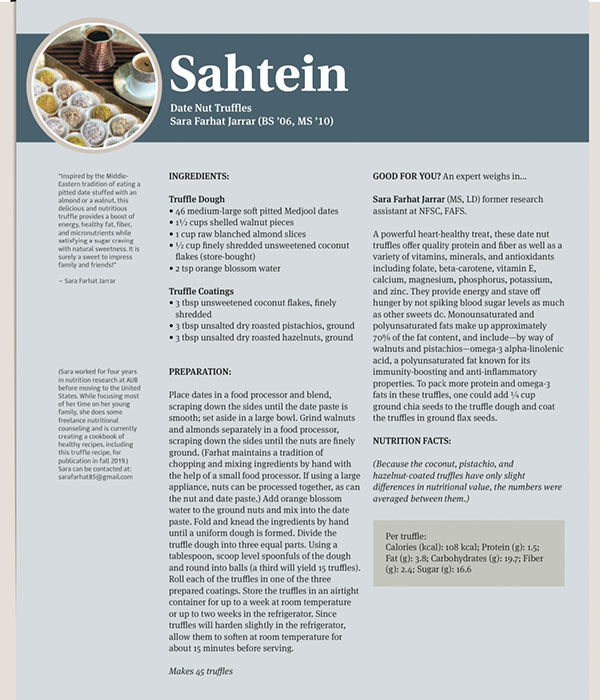 This recipe was also featured on Fox 9 Good Day – November 18, 2021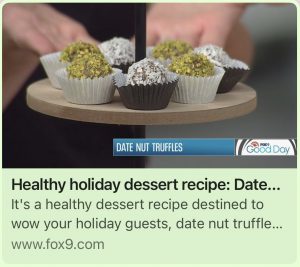 All rights reserved, including complete or partial reproduction and use of any content of this recipe, without the written consent of the author. Any unauthorized actions are subject to legal proceedings.