Dairy Free – Gluten Free – Egg Free – Vegan – Freezer Friendly
RECIPE YIELD: 18 cups
This is a classic Middle Eastern lentil soup, coupled with a variety of vegetables, and tasting delicious with olive oil and lots of lemon juice. Some make it with only lentils, onions, and green Swiss chard, but many add in zucchini, carrots, and some potatoes, for a variety of added goodness. Red Swiss chard is common in the US and can substitute for the green version, as they both have the same flavor. Like many Lebanese dishes, this soup is traditionally made with caramelized onions, which do impart a distinct flavor, but which can be compensated for by adding some ground cumin.
INGREDIENTS:
2 cups dry brown lentils (390 g)
1 medium yellow onion, minced (160 g)
4 medium zucchinis, diced (450 g)
1 ½ large carrots (no skin), sliced into circles (150 g)
8 small red potatoes (with skin), diced (540 g)
6 medium Swiss chard stalks (with leaves), chopped (400 g)
2 tbsp olive oil
11 cups water
½ cup lemon juice
2 tsp cumin
½ tsp allspice
½ tsp turmeric
2 tsp salt
1/8 tsp black pepper
INSTRUCTIONS:
 In a large pot, covered, cook the onions with the olive oil on low heat for 20 minutes, stirring occasionally.
Pick over the lentils, removing any bad pieces. Rinse well, then drain.
Add the lentils, carrots, water, and spices, then stir to mix.
Bring to a boil, then cook, covered, on low heat for 15 minutes.
Add the zucchinis, potatoes, and Swiss chard, then stir to mix. Cook, covered, on low for another 15 minutes, or until the lentils and vegetables are cooked.
Stir in the lemon juice once heat is turned off.
Once served, add more freshly squeezed lemon juice as desired.
NUTRITION FACTS PER SLICE:
156.5 Kcal
4 g Fat
9 g Protein
22 g Carbs
1 g Fiber
8.4 g Sugar
This recipe is from my book titled Homemade: Made Healthy & Whole – A Flavor of Lebanese Cooking and Other Healthy Recipes which contains over a 100 recipes made with a healthy and whole twist!
This recipe was featured on Fox 9 Good Day – March 2022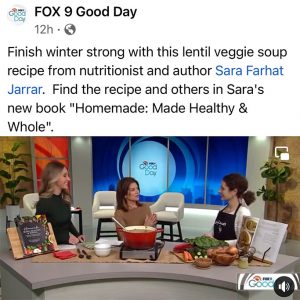 All rights reserved, including complete or partial reproduction and use of any content of this recipe, without the written consent of the author. Any unauthorized actions are subject to legal proceedings.