Dairy Free – Egg Free – Vegan – Freezer Friendly
RECIPE YIELD: 18 cups
This is my favorite high-protein vegan spaghetti dish of my own creation, loaded with soybeans, vegetables, and whole wheat spaghetti. It offers high-quality protein and heart-healthy fats, while providing a great source of fiber, micronutrients, and antioxidants. Many tend to avoid soy products on the basis that they may cause undesirable health effects such as breast cancer and thyroid problems. Recent research suggests that soy has beneficial and/or neutral effects on various health conditions, and thus, can be safely consumed in moderation (especially when replacing red meat). Soybeans are in fact one of the cheapest richest sources of high-quality protein, ranking as high as the protein quality of meat and dairy (as compared to other beans and plant protein-sources that contain incomplete proteins, i.e. lacking some essential amino acids).
INGREDIENTS:
2 cups dry soybeans (340 g)
Dry whole wheat linguine (600 g)
5 medium bell peppers (3 green, 2 red), diced (825 g)
1 medium yellow onion, minced (160 g)
2 tsp garlic, crushed
1⅓ cup ketchup (347 g)
1 tbsp mustard
¼ cup low-salt soy sauce
2 tbsp olive oil
1 cup water
1 tbsp mild curry
½ tsp turmeric
2 tsp dry oregano leaves
1 tsp dry basil leaves
1 tsp baking soda
chili pepper powder, optional
INSTRUCTIONS:
Soak the soybeans in water with the baking soda for 24 hours (refrigerate). Drain and add fresh water, then soak for another 12 hours.
Drain the soybeans, then rinse well. Pick over for bad pieces and for any pieces that don't rehydrate. Place in a pot, cover with water, then bring to a boil. Skim off the white foam that floats to the surface, then cook, covered, on low heat for 3 hours (or until tender). Drain and set aside.
In a large pot, covered, cook the onions with the olive oil, on low heat for 20 minutes (stirring occasionally).
Add the peppers, then cook, covered, on low heat for another 15 minutes.
In a small bowl, mix the water, garlic, ketchup, mustard, soy sauce, herbs, and spices, then pour over the vegetables. Turn up the heat, bring the sauce to a boil, then cook, covered, on low for 5 minutes.
Stir in the soybeans.
In the meantime, boil the linguini in a separate pot with a pinch of salt to an al dente texture. Drain (but do not rinse), then fold into the vegetables, beans, and sauce.
Let sit for 10 minutes before serving.
NUTRITION FACTS PER CUP:
238 Kcal
7 g Fat
14.6 g Protein
36.4 g Carbs
7 g Fiber
10 g Sugar
NOTE:
Since all pastas tend to drink up some liquid from the sauce as the dish sits in the refrigerator, always save some of the water from boiling the pasta and use when reheating individual servings as desired.
This recipe is from my book titled Homemade: Made Healthy & Whole – A Flavor of Lebanese Cooking and Other Healthy Recipes which contains over a 100 recipes made with a healthy and whole twist!
This recipe was featured in the Sahtein segment under the Wellness section of the MainGate magazine, American University of Beirut – 2019/2020 Fall/Winter Edition.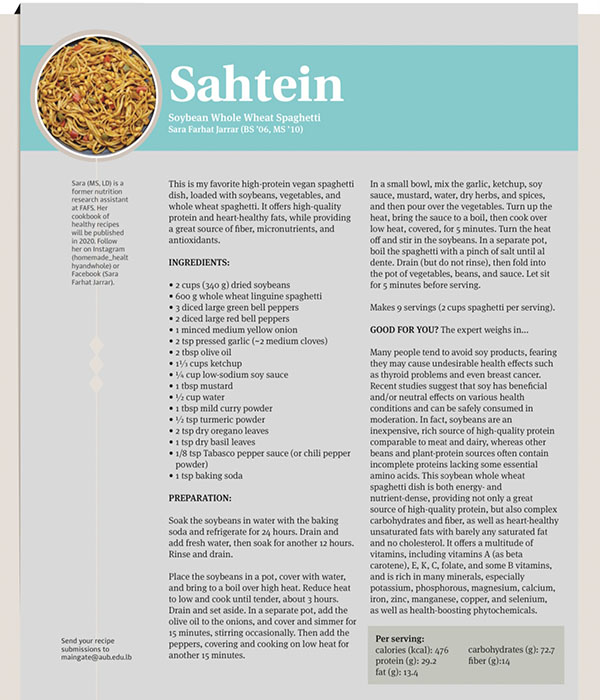 All rights reserved, including complete or partial reproduction and use of any content of this recipe, without the written consent of the author. Any unauthorized actions are subject to legal proceedings.